InClass
We're following the journey of first-year teacher Brianna Winiesdorffer, who is now nearing the end of her first year of teaching.
May 05, 2021
We are documenting Brianna Winiesdorffer's journey as a 2020 Northern Arizona University graduate planning on a lifelong career in education. Learn more about this project and Winiesdorffer here.

Just as first-year teacher Brianna Winiesdorffer was growing confident with her routine and balancing the different parts of her role as a math resource teacher, it was the end of the second quarter and classes were coming to an end.
After teaching one section of Algebra I and co-teaching a section of Algebra II earlier in the year, she is now in the midst of teaching two sections of Algebra I. 
"I think I did approach the new semester more confidently. For me, the biggest shocker was that I got used to a routine but then I had to go back to how I did things in the fall – not so much the class-specific stuff but sending out Zoom links, I had a lot of parents reaching out, and all of that was new again."
She's also had to adjust to the different energy in her classes. Her Algebra I classes and homeroom are larger and, in general, more talkative than before.
"New students, new personalities, and their personalities are big this year," she says. "Last year, I had about 10 students in my homeroom and they never spoke at all, and now I have 30 and most of them love to talk and participate."
Getting to now teach the same content she did in the fall but to a new set of students has been a good opportunity to review and change her approach.
"Teaching these lessons now, I feel like I have more insight on them," she says. "I've like completely tweaked my class. We're doing different things to see if this helps. I use the same notes but the plan for the day is different, and we're using different resources and I've created some different assignments."
Some of the different assignments she's created have allowed her students to personalize math problems. A Mad Lib-style assignment gave each student the opportunity to fill in the who, the what, and the how many of a word problem. Winiesdorffer created the structure of the word problem so that the formula would always be the same but students were able to tailor to their interests. While studying math inequalities, Winiesdorffer had each student use text and images on Jamboard  to compare two different elements of their choice. Students could choose to use the "greater than" and "less than" symbols to compare the net worth of two pop stars, the cost of different video game systems, or the monthly average listens of two different songs, for example.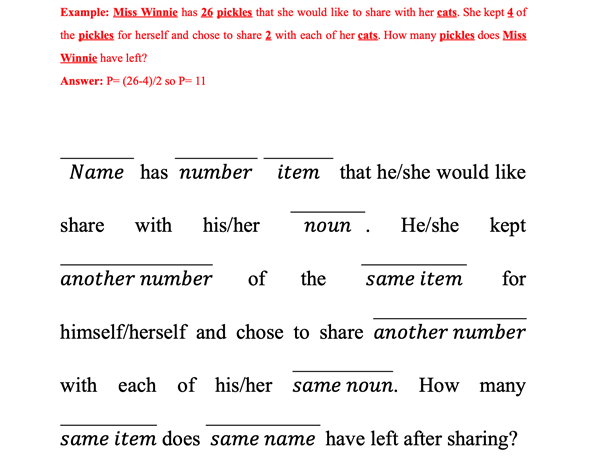 After creating her own practice problems for all of her first Algebra I class, she's now having students sometimes use DeltaMath, an online math practice and learning website. She's also added a daily closing to her classes that may include a check-in with how students are feeling about the day's lessons or some content questions to see if students are understanding the main points of the lesson, and ends with any questions for her.
She's also swapped a joke of the day for a question of the day, often asking a "Would You Rather" question. Questions like "Would you rather only use a spoon or only use a fork?" or "Which do you put in a bowl first: the cereal or the milk?" have spurred some strong opinions and great discussions between her students before diving into math content.