InClass
Candace Greene, NBCT, is a champion for her students and their identities both inside and outside the classroom.
Oct 12, 2021
Candace Greene, NBCT, says she "accidentally became a teacher."
Now in her 20th year of teaching, Greene had been studying multimedia and web design at Art Institute of Phoenix with a vision of working at DreamWorks and making movie trailers. A career counselor spoke to her about a federal grant the school had received to fund Art Institute students to teach in local schools. Greene decided to give it a try and started out as an instructional assistant at Maryland School in Washington Elementary School District in Phoenix.
"My journey just went from there. I fell in love with it."
Greene is now in her 16th year at Sevilla Elementary School West in Alhambra Elementary School District. 
"I'm not the greatest artist, but I don't think that matters," she says. "I really like the historical aspect of art and why people do art, why it drives people and how the styles change over time. When I started teaching art, I just fell in love with it. I love seeing what my students create, and I think it's so important for their growth and who they are going to be and how they will be a part of the world. I think that is all part of the arts."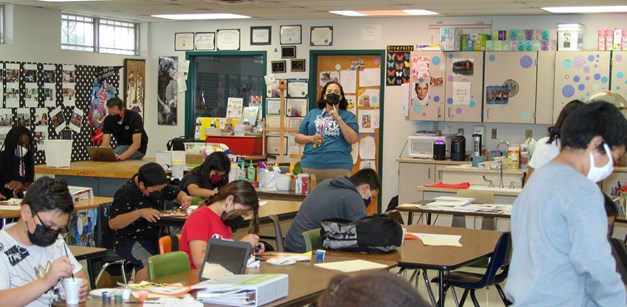 Along with teaching art, Greene sponsors Sevilla Elementary School West's Arts Council, Drama Club, and Native American Club. She is a Google 1 Certified Educator, the Arizona Art Education Association President-Elect and Regional Liaison, and a National Board Certified Teacher in early and middle childhood art. She also notes that she is an advocate and ally for LGBTQ students. 
Greene prioritizes honoring her students as the multi-faceted individuals they are.
"I think it's important that kids feel seen, that they all recognize that who they are is important," she says. "They should never feel like they're the minority, or they aren't good enough, or that they can't excel, or that they need to hide who they are or be ashamed."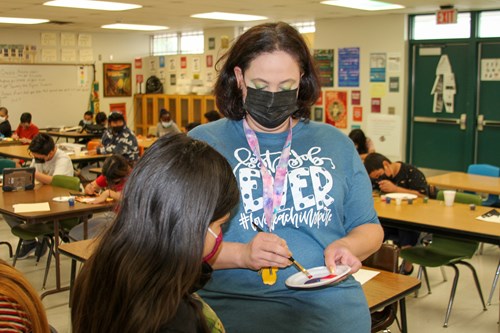 Many students stay in contact with Greene after they leave Alhambra and head to high school and beyond.
Just a few weeks ago, Greene worked with several former students and Phoenix muralist Lalo Cota to paint a mural in the Calle 16 neighborhood across the street from Barrio Cafe.
"They wanted to use art to make a change in the world," she explains. They decided to paint the word 'unite' with each letter filled in with a flag or symbol of a particular identity or community. Lalo Cota painted the background of a Phoenix sunrise and landscape.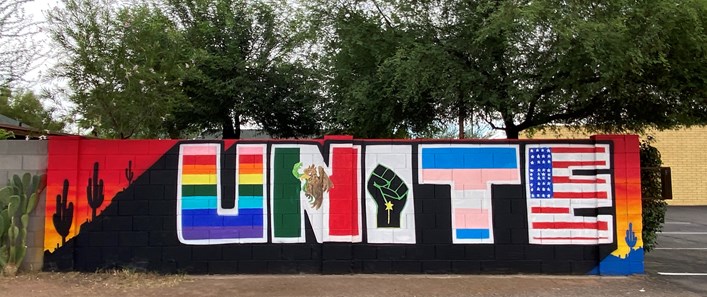 Greene's commitment and energy to continue teaching and supporting students escalated as she pursued National Board Certification.
"At first, not knowing what I was getting into, I was doing it to make a little more money," she remembers. "But, as I got into it, I continued because it was elevating my teaching. I want my students to constantly strive to grow more and more, and I realized this was my chance as a teacher to grow more and more."
Greene also holds a master's degree in education but speaks to how different the two experiences were. National Board Certification "was about me and my teaching, not somebody else telling me what to teach, but just a reflection of what I was doing." Greene needed to retake components three times before certifying but says what she gained from the process and her own determination made it worth it.
"I would encourage anyone to do it, especially art teachers," she says. "It makes me constantly think about why I am teaching this lesson, why it is relevant to the student population I have. It really made me reflect. Now, I am always reflecting—always. It made me a better art teacher. It made me not just grow as an art teacher but as an artist and as an advocate for the arts. It made me love my job even more, because it made me find my purpose."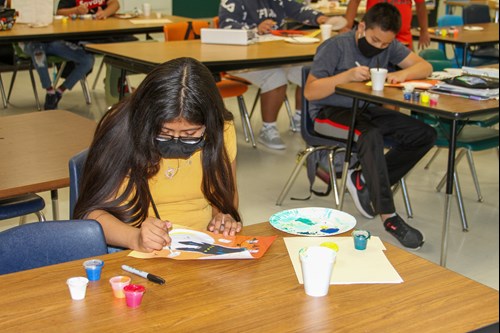 Reflecting on how lessons were going when school buildings were closed caused her to revamp her approach to remote teaching. After very few students were showing up for Greene's online classes, she decided to leave her home where she had been teaching from. Greene spent much of last school year traveling the state and broadcasting her adventures to her students for class. She took students on virtual tours of art museums and art galleries, the Calle 16 murals, the Desert Botanical Gardens in Tempe, the Grand Canyon, and other locations around Arizona. She also used technology to live-stream local artists, including an artist that worked on Disney's Raya the Last Dragon, into her class to talk about their work. Engagement skyrocketed. Many parents started watching with their students too.
Greene's dedication to her students and the reflective approach she gained from National Board Certification keep her continually looking to enhance her teaching and uplift her students.
"I loved it," she says, "and I think when you're passionate and you love something, you want to keep doing it."
You can see pieces of Greene's virtual field trips and other classroom happenings on her classroom Instagram account @MsGreenesArtTrips.