Virtual Literacy Connections: Amplifying Youth Stories and Voices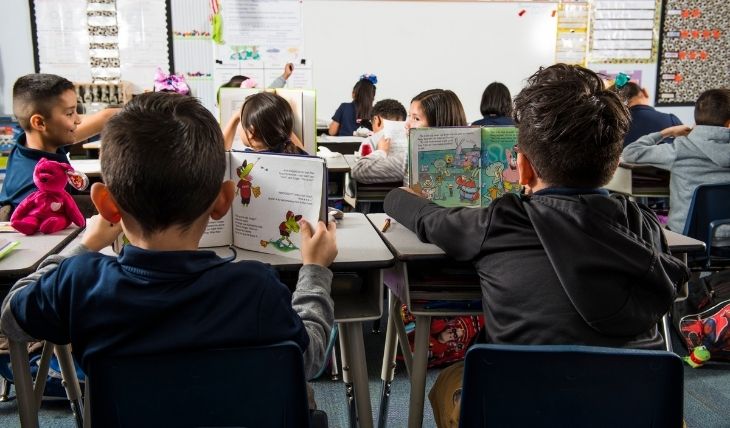 Join Dr. Tracey T. Flores for Amplifying Youth Stories and Voices: Expansive and Embodied Writing Pedagogies for K-12 Classrooms in this September's Virtual Literacy Connections series.
Our classrooms—from pre-kindergarten through 12th grade—are filled with poets, storytellers, artists, and journalists with important stories, perspectives, and experiences. With intentionally designed opportunities to write from their personal lives and identities, young writers can use their voices as tools for expression, examination, connection, and social transformation. In this learning session, we will discuss the building of spaces that foster brave writing, the intentional selection of literature to inspire personal writing, and strategies for supporting our writers to amplify their voices in the classroom and beyond.

In this series of two interactive virtual workshops, you will:
Engage in invitations to write and free writing to develop confidence in your writing and bring these practices into your writing curriculum design 
Explore the intentional design of writing curriculum to center the identities, languages, cultures, and literacies of all writers
Gain strategies for selecting a broad range of literature (e.g., poetry, picture books) that reflect the cultures, languages, and literacies of your writers to inspire personal writing. 
Create opportunities to make your students' writing and voices public through classroom displays, creating class books, and author readings. 

About Dr. Tracey T. Flores:
Dr. Tracey T. Flores is an assistant professor of language and literacy at the University of Texas at Austin where she teaches Language Arts Methods and Community Literacies in the K-5 teacher education program. Dr. Flores is a former English language development and English language arts teacher, working for eight years alongside culturally and linguistically diverse students, families, and communities in K-8 schools throughout Glendale and Phoenix. Her research focuses on Latina mothers and daughters' language and literacy practices, the teaching of young writers in culturally and linguistically diverse classrooms, and family and community literacies. She is also the founder of Somos Escritoras/We Are Writers, a creative space for Latina girls (grades 6-12) that invites them to share and perform stories from their lived experiences using art, theater, and writing as a tool for reflection, examination, and critique of their worlds.
Additional Information
Please note that this is a two-session event. The second session will build on the first session. If you plan to join us, please attend both dates.  

Please contact Marissa Delgado at mdelgado@azk12.org by August 26, 2021 if you require accommodations (such as closed captioning) for this virtual event.

All times listed are in MST/Phoenix, AZ time.
---