AfterClass
In our first update with Brianna Winiesdorffer, she shares about how surreal it was to graduate and begin a job search during the COVID-19 pandemic.
Jun 17, 2020
We are documenting Brianna Winiesdorffer's journey as a 2020 Northern Arizona University graduate planning on a lifelong career in education. Learn more about this project and Winiesdorffer here.
Brianna Winiesdorffer still doesn't feel like she's actually graduated.
"It feels just unreal," she says. "I don't know if it's quite hit me yet."
In the midst of the COVID-19 pandemic, Winiesdorffer's last weeks as a Northern Arizona University student were online, including the classes she was leading in her final practicum placement. Winiesdorffer graduated from NAU's College of Education this spring with a bachelor's degree and dual certification in elementary education and special education. She also earned a Spanish minor and was named NAU's College of Education Undergraduate Senior of the Year.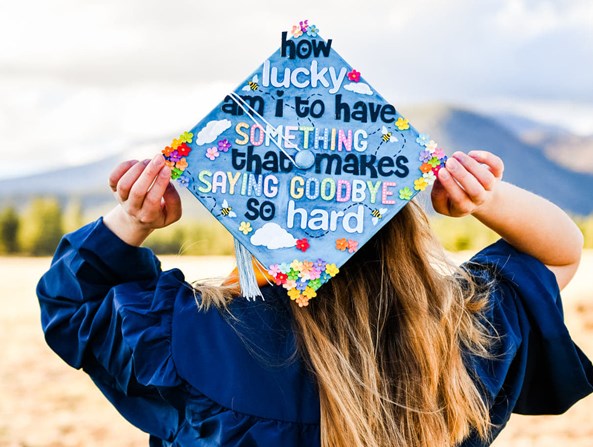 While she wasn't able to watch NAU's virtual commencement because of job interviews scheduled at the same time, she did watch the ceremony a couple days later, and her collaborating teacher from her final student teaching placement hosted a small online video graduation party. A friend also took photos of her in her regalia on NAU's Flagstaff campus.
She says it feels surreal that she's actually graduated, but she's now focused on looking for a teaching position in the Flagstaff area.
"I'm kind of just applying for whatever is open," she says, "but I would really love kinder or first."
With five different practicum placements including elementary and high school, general education and special education, Winiesdorffer says she feels equipped to step into just about any teaching position.
"I think I'm a pretty quick learner, and I've seen so many different placements," she says. Along with student teaching, she's also learned a lot from two years working with Flagstaff Families and Communities Teaming for Students ("FACTS" for short), a before and after school program, at the DeMiguel Elementary location.
Like many teachers experienced, the hardest part of taking school online this past spring was being away from her students. She had a placement with a fifth-grade class for the first half of the spring semester at DeMiguel and was two weeks into a new special education placement when learning moved online.
"I had told [the fifth graders] that I would come by and see them," she says, since she was working for FACTS in the same building. But "I'll probably never see them again because they were fifth graders. They're going on to middle school. That was kind of hard."
The new placement she started just before distance learning was difficult in its own way. She was working in Coconino High School's Transition from School to Work program and just two weeks in the classroom with students wasn't enough to really build relationships with the students before having to move learning online, she explains. She was proud of the activities she created for her students, but participation was low for the class during virtual learning.
Winiesdorffer is working at Flagstaff Unified's FACTS camp through most of June and July while continuing her job search. She has had several interviews for different positions but hasn't been hired yet. She'll continue her work with FACTS in the new school year if a teaching position doesn't open up, but she's ready to be back in a classroom teaching. For now, though, the search continues.