Mentor Institute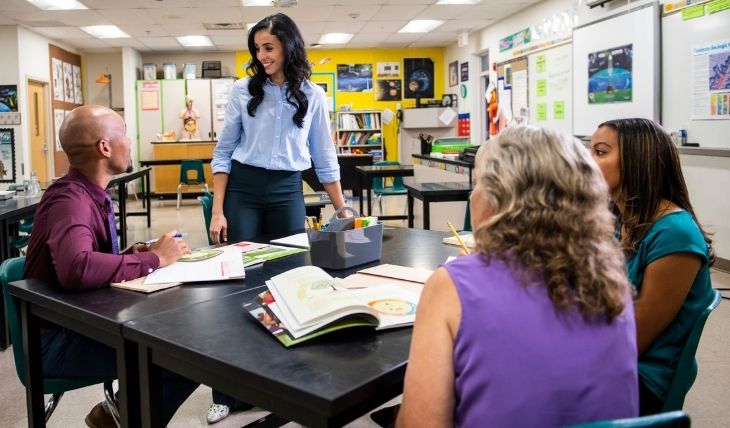 This learning opportunity is designed for mentors supporting beginning teachers. Utilizing the New Teacher Center philosophy and model, Mentor Institute will focus on instructional mentoring, observation and conferencing, using data to inform instruction, and designing effective instruction based on the learning needs of students. We have realigned this training to better meet the needs of Arizona teachers and mentors. The learning is sequenced to build on knowledge, skills, and understanding, all of which are critical for new teacher mentors, in a range of program contexts. Mentors will cultivate a learning community through sharing and reflecting on mentor practice.
Through participation in Mentor Institute, mentors will:
Clarify understanding of mentors' various roles and how to build collaborative, trusting relationships with beginning teachers through:

Acquiring mentoring language
Practicing differentiated stances of effective instructional mentoring

Apply protocols and tools that support an effective observation cycle for mentors by:

Expanding on the use of mentoring language and practicing skills of collecting evidence and providing meaningful feedback
Building new partnerships and effectively communicating with site administrators

Learn and practice the protocols for analyzing student work to:

Collaboratively plan differentiated instruction with beginning teachers
Provide meaningful feedback and incorporate relevant aspects of brain research that enhances teaching practice

Explore the latest research in student motivation and acquire new skills and tools that:

Support the planning of effective instruction that aligns with 21st-Century Standards
Reflect on mentors' first-year experiences and plan support systems for teachers who may be transitioning at year's end
Participants will:
Employ the roles, language, and stances of effective instructional mentoring. 
Build collaborative, trusting relationships with and among beginning teachers.
Use the Formative Assessment Tools (FAS) to assess and advance teaching practice.
Use standards and criteria to anchor assessments about teaching and learning.
Practice strategies for mentoring in complex situations.
Additional Information
Registration includes breakfast and lunch on September 7-8 and November 15-16, 2022, training, and materials. Dates above also include Mentor Forums on October 18, 2022 (in-person), December 6, 2022 (online), February 7, 2023 (online), and April 4, 2023 (in-person).

There is limited space available for this particular series and participants should register early. We expect this professional learning opportunity to sell out quickly!

All times listed are in MST/Phoenix, AZ time.

Nearby hotels:
Marriott Phoenix Resort Tempe at The Buttes 

(1.3 miles from event venue)


2000 W Westcourt Way Phoenix, AZ 85282




Phone: 602-225-9000




Call Sandy Lehigh at 602-431-2392 and mention the "Arizona K12 Center" to make reservations. Subject to availability.
Homewood Suites by Hilton Phoenix Airport South 

(0.8 miles from event venue)


4750 E Cotton Center Blvd Phoenix, AZ 85040




Phone: 602-470-2100




Please call 602-470-2100 and mention the "Desert Willow Conference Rate" to make reservations. Subject to availability. 
---