AfterClass
In this third update with new teacher Brianna Winiesdorffer, she shares about preparing her classroom and readying herself for the start of the school year.
Jan 01, 0001
We are documenting Brianna Winiesdorffer's journey as a 2020 Northern Arizona University graduate planning on a lifelong career in education. Learn more about this project and Winiesdorffer here.


In late July, Brianna Winiesdorffer received the key for her classroom at Coconino High School and first stepped foot into her own workspace.
"It felt like I was walking into a stranger's space. It didn't feel real at all," she says about that moment. "Slowly as I was walking around, it started to hit me how much I needed to do and I got really overwhelmed." She began to scribble down lists of how she wanted to arrange the space and what she needed to bring in. Even if she wouldn't start the school year teaching students inside the room, she wanted to have a fully set space where she could work and virtually teach rather than the home she shares with three housemates and three pets, a dog, Sev; a cat, Macy; and a new kitten, Jubilee.
A few days later, after training for much of the day on how to navigate the software used to manage individualized education plans (IEPs), she visited her classroom for a second time and began unloading the carload of supplies and furnishings she had brought to the school.
After almost four hours, she wasn't even close to being done. Along with supplies like scissors, markers, and paper, she brought in home goods, like rugs and pillows, and decor that she's been making and collecting or received as gifts through the last couple years.
"I want my classroom to feel like, sort of the theme I've chosen, I've been calling it 'elevated forest' or 'sophisticated forest'," she explains. "Just a lot of greens and relaxing and calm."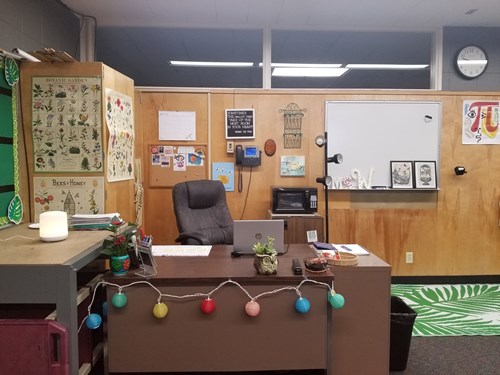 Along with her own desk space and filling up the walls of the classroom, she's especially excited about creating a 'cooldown/relax' area, a corner of the classroom that's a bit more comfy and separated from the rest of the class.
She tried to fit in as much time as she could setting up her classroom in that early August afternoon. Most days up until the start of Flagstaff Unified School District's school year, Winiesdorffer was balancing full days of babysitting and district online trainings.
"These weeks leading up to school, there's so much," she says, listing the trainings, meetings, and other tasks she needs to complete.
Even when feeling the pressure of all she has to complete before the start of the school year and the uncertainty that comes from working in a brand new role, Winiesdorffer speaks with positivity.
She has felt immense support from colleagues and mentors. Her new coworkers were all so welcoming, she says. In July, she received her daily teaching schedule and found out that she would be starting her mornings co-teaching a class. Her co-teacher, with more years of experience, helped her feel a bit more grounded.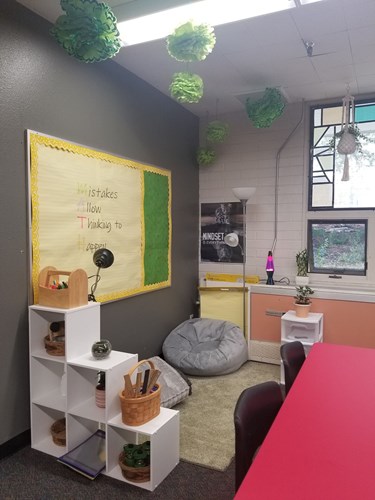 In early August, she also attended a Sharpen Your Skills event online with the Arizona K12 Center. These events are specifically for beginning teachers and that day's session was focused on providing brand new teachers with strategies and tips to support both themselves and their students in such an unpredictable year.
"I feel like every time I do a training or talk to anyone at the Arizona K12 Center, they're always very, very supportive," she says. "It's really nice to get that boost of confidence from them, especially when you're really doubting yourself and not sure how you're going to do. Everybody was feeling that way in the training and they still were like, 'That's completely normal; we feel that too. You're going to do amazing.'"
Laura Anderson, a school psychologist for Paradise Valley Unified Schools, spoke at Sharpen Your Skills, and gave Winiesdorffer several ideas to integrate into her life and work. One thing Anderson noted that especially inspired Winiesdorffer was the effect of having plants in your space.
"This summer, I bought a bunch of plants because my housemate basically has a forest in her room --it's crazy-- so I got really inspired. So, I bought a bunch of plants and it completely changed my room's vibe and feel," she says. Anderson's sharing about the positive emotional effects of plants reinforced what Winiesdorffer was already experiencing. "I'm actually going to be bringing that into my classroom as well. I feel it really goes with the forestry, green, peaceful thing I have going on."