InClass
We're following the journey of first-year teacher Brianna Winiesdorffer, who is now nearing the end of her first year of teaching.
May 18, 2021
We are documenting Brianna Winiesdorffer's journey as a 2020 Northern Arizona University graduate planning on a lifelong career in education. Learn more about this project and Winiesdorffer here.

As Brianna Winiesdorffer prepared for her first year of teaching, she received an email from the Arizona K12 Center letting her know that as a graduate of Northern Arizona University's Arizona Teachers Academy program, she would be paired with a mentor.
"I was anxious because I didn't know exactly what it would look like," she says. She had seen some videos as an undergraduate of what new teacher mentorship might look like. "It always seemed very formal and like all we're going to do is sit down and do work with our computers up. I didn't really want that and I'm glad that's not really what it was."
Winiesdorffer met at least monthly with her Arizona K12 Center mentor Angela Buzan, a National Board Certified Teacher who taught English to middle and high school students for 14 years and also taught younger grades during summer camps. The pair's interactions weren't at all the sterile, formal meetings Winiesdorffer had feared.
"I was anxious going in," Winiesdorffer says, "but it was everything I could have wanted and more."
The pair committed early to a personalized and creative meeting schedule. They met at least once a month through the year, sometimes going on walks or hikes, talking over a meal, or connecting through Zoom. Winiesdorffer really appreciated that they met primarily outside of school because of how easy it could be to spend all day in her school building.
"Something that I really liked that Angela did was she emphasized that she wanted our meetings to benefit me. So, if I was overwhelmed or stressed or just needed space, she also gave me that in addition to the mentoring," Winiesdorffer says. "I knew and I still know that I can reach out to Angela whenever. Communication was always open, but it was very much 'whatever you need, whenever you need it,' and I really appreciated that."
For their first meeting, Buzan and Winiesdorffer met for a walk behind Coconino High School in Flagstaff where Winiesdorffer had been hired. (You can see the photo below that Buzan took of Winiesdorffer gesturing toward the school.) Buzan brought along a binder she had prepared with a variety of resources. As they started to talk, though, Buzan set the binder aside. "We moved into an authentic space of getting to know one another," Buzan says. They did talk about tools Winiesdorffer could use in her classes, "but it was more freeform and authentic." They also connected over a love of thrift shopping.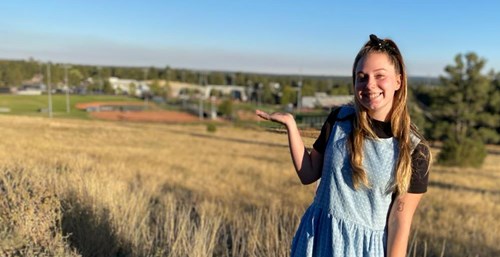 While Buzan's background is in English and Winiesdorffer is a resource math teacher, Winiesdorffer found Buzan full of ideas.
"I am just so grateful that Angela was my mentor. Angela, I think that you are an amazing teacher," she says. "I feel like she always has an answer, some thought that helps or some idea to try. She has the coolest ideas, things I wouldn't even have thought about."
Above all, though, Winiesdorffer appreciated Buzan's care.
"It wasn't cookie-cutter; we didn't just focus on pedagogy. It was very much 'How are you doing as a person?,' not just as a teacher but also as a person," Winiesdorffer says. "I think in your first few years of teaching, you need guidance in all aspects."
Buzan notes that many of the things Winiesdorffer worried about were things she will continue to contemplate through her career.
"She's not the kind of teacher who obsesses over small things like, 'I have to meet this deadline for a committee' or 'I really wanted this font on this worksheet and it didn't turn out.' She never went there," Buzan says about Winiesdorffer. "She got caught up in meaning, in making meaning. 'Does this matter?' And then that really, really important, kind of existential question that teachers have is 'Am I making a difference?' and 'Oh my gosh, how can I make a difference?'"
That's especially difficult in the first year of teaching because you have no other experiences to compare it to, Buzan explains. She urges Winiesdorffer and other teachers to hold on to those questions.
"The most important part of self-care as a teacher is taking care of that baby right there, taking care of that little desire to make a difference. As soon as you let go of that, that's when you become a jaded teacher," she shares. "It's a bizarre dichotomy because you want to be emotionally comfortable and say 'I show up to work everyday and I'm the teacher that stands in the hallway and smiles, and all the kids like me.' That's different from 'some days I just want to cry as much as the kiddos do.' It's worth it to have the emotional difficulties some days and make that big life impact where the kids will remember you because there were days that you were teaching math and there were days you were just teaching."
Winiesdorffer and Buzan encourage other teachers to seek out mentorship. 
"Embrace it," says Winiesdorffer to other new teachers. "Embrace all of the feedback that they give you and all of the advice that they have to offer, because they have more experience. Even if you don't necessarily agree with everything that they say, there's got to be gems in there you can pull out. Embrace your mentorship and the time you get to spend with your mentor."
If there's a personality clash or a particular partnership isn't working, take the initiative to seek another mentor, Buzan suggests. "You have to have some neutral party."
"Because I worked at several schools, my habit was to find the oldest teacher in the department, and I would just sit there and ask her questions and listen for an hour," she continues. "Even if some of the things were different than what I would do or dated for a different generation of kids, there was always some way to translate it into what I could do. I just can't explain the power of mentorship for me and, my goodness, I hope I can do just a tiny bit of that, give a tiny bit of wisdom."
For these Winiesdorffer and Buzan, mentorship has been less about roles than about authenticity and meaning. They plan to stay connected and continue learning from each other.