AfterClass
We're following the journey of brand-new NAU graduate Brianna Winiesdorffer, who now has a teaching position for the fall. Even after accepting the district's offer, there are still several more steps to complete.
Jul 29, 2020
We are documenting Brianna Winiesdorffer's journey as a 2020 Northern Arizona University graduate planning on a lifelong career in education. Learn more about this project and Winiesdorffer here.
Brianna Winiesdorffer is set to begin this fall as a math resource teacher at Coconino High School in Flagstaff Unified School District. She's excited to be teaching, putting into practice all she learned while earning her education degree at Northern Arizona University (NAU). Before that, though, she's navigating all of the steps that need to happen first.
Winiesdorffer completed three interviews, all video calls, for different teaching positions before she was offered and accepted the math resource teaching position. While there was typically one question in each interview she hadn't considered before, she says she felt very prepared for interviewing, especially thanks to mock interviews with the cooperating teacher from her last placement and Michelle Novelli in NAU's Department of Teaching and Learning who Winiesdorffer considers a mentor in her education journey.
"Most of the questions were pretty typical: what's your classroom management style, tell us about yourself," she says. "Every interview has been with multiple people. I really enjoyed interviewing with the group at 'Coco'."
The first big obstacle Winiesdorffer faced after accepting the position, though, was learning about the certification process in Arizona. Along with information on the Arizona Department of Education's (ADE) website, she's needed to rely on guidance from her soon-to-be coworkers, Novelli, and employees in ADE's Certification Unit.
Winiesdorffer completed the elementary education knowledge exam required for certification last winter, but the special education exam she was scheduled to take in March to earn that endorsement had been continually postponed because of the COVID-19 pandemic. She was able to complete and pass that exam earlier this month and now also needs to be certified for secondary mathematics for her new position, though Winiesdorffer said she does not need to be certified by the start of her contract date.

She's waiting to take the math knowledge exam so that she both has time to study for it and a bit more flexibility in her budget to pay for the exam. Winiesdorffer worked for two different summer education programs, one ending in June and the other in late July.The scheduling works out that there will be more than a month between her final paycheck from that summer work and the first payment from her new teaching position. She's taking on a babysitting job to help fill the gap.
"When I feel most comfortable with my finances, then I'll schedule it as soon as possible," she says.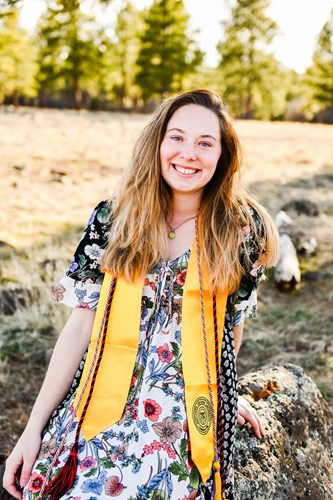 Along with studying for the math knowledge exam and babysitting during the day, Winiesdorffer is also trying to envision the new school year, amidst lots of questions and uncertainty. Each district email brings a pop of excitement: the first group email from Coconino High School, the email with her class schedule, the email asking about what supplies she would like for her classroom, though she hasn't yet seen that space.
She's completed her onboarding for the district: reviewing rules and regulations, filling out benefits paperwork, signing up for a district computer, and getting a photo for her teacher badge. She says she should hear soon about if she'll be able to teach from a classroom--even if teaching virtually, she said her preference would be to have the resources and space that come with a classroom rather than teaching from home--and the actual curriculum for her classes. As a new teacher, she's also contemplating what she wants students to call her. She went by 'Miss Bri' as a student teacher but now is deciding between two variations of her last name: 'Miss W' or 'Miss Winie.'
She's glad to be joining a school staff where she knows several other people. She had one teaching placement there as an NAU student and knows some other teachers through other connections.
"Everybody's been super helpful and really nice," she says. "Everything that they're doing is just preparing me for it."