Centered
Arizona K12 Center Executive Director Dr. Kathy Wiebke shares about the creation of her Executive Director's Book Club and announces the four books the group will be reading and discussing this year.
Sep 03, 2020
The Executive Director's Book Club stemmed from a personal 2019 New Year's resolution to read more. Apparently, I need to make things public to follow through. The first book we read was Educated by Tara Westover. I picked the book because it was on The New York Times Bestseller List and getting rave reviews. I had no idea what it was about but with a title like Educated with a group of teachers, how could you go wrong? The book was outstanding but didn't come close to my preconceived ideas of what it would be about. This, in reality, was a very good thing as it allowed us all to have a broader conversation. Since then, a group of teachers and I have been gathering together several times a year to discuss books I selected for no other reason than I wanted to read them.
This year is a bit different. Things are far from normal. Our country is more divided than ever. A worldwide pandemic is raging throughout our country. There are protests taking place across America. At the same time, I have been struck by the stories of people who by the mere fact of having a skin color darker than my own have a totally different lived experience than myself. Hearing their stories while watching the evening news and perusing social media has forced me to come to grips with my own white privilege. 
After our summer leadership conference, I reached out to our keynote Cornelius Minor. I found his opening keynote particularly powerful. While I watched the online keynote from my office, my eyes began to fill with tears as he talked about his face being pushed to the ground on many occasions. I couldn't understand how anyone could treat another human being this way, let alone someone, who in my mind, represents a zero-level threat to anyone else, someone who is filled with kindness and goodness. His story was just one of many that have unfolded for me over the past weeks and months. Quite honestly, it has all left me disillusioned, angry, and incredibly sad. You hear these stories but you can't believe they actually happen.
When I spoke to Cornelius, one thing he said struck me. "You can't teach what you don't know."
You can't teach what you don't know. He is right, and, to that point, I started looking inward to my own journey to better understand and perhaps leverage the Executive Director's Book Club. Before I spoke to Cornelius I had selected three titles for the year and still think they are strong vehicles to explore social justice and equity while maybe seeking out ways I can be a positive force for change.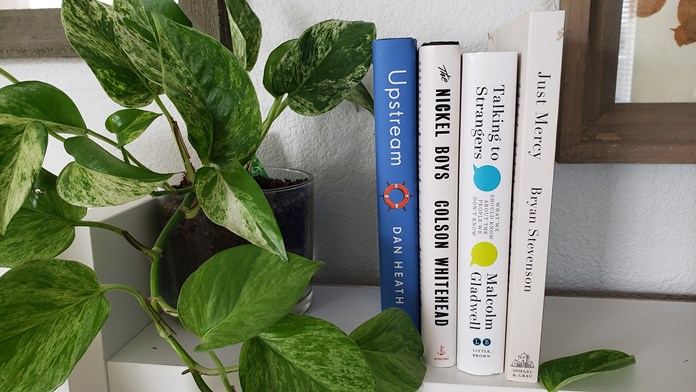 Our first book will be Just Mercy by Bryan Stephenson. I first heard of Stephenson and his book, Just Mercy, about four years ago. My niece was entering Northern Arizona University at the time, and they gave all the freshmen this book with the idea that, no matter where a student came from, they would have one similar experience to share. Just Mercy is a memoir that personalizes the struggle of injustice. It is an unforgettable account of Stephenson's journey as a young, idealistic lawyer and provides the reader a window into the lives of those he defends. You may have seen the movie but, in typical fashion, the book is so much better.
I got the idea of the book Talking to Strangers by Malcolm Gladwell from participants in last year's book club. When one person brought up the book, several chimed in in unison, "YES!" Talking to Strangers examines our interactions with strangers and why they often go wrong. Gladwell shares that something is wrong with the tools and strategies we use to talk with people we don't know, which, as a result, invites conflict and misunderstanding.
I have always been a fan of the Heath brothers. So often in life, we get stuck in a cycle of response: we put out fires, we deal with emergencies, we stay downstream, handling one problem after another. We never make our way upstream to fix the systems that caused the problems. Dan Heath's book Upstream probes the psychological forces that push us downstream, including "problem blindness," which can leave us oblivious to serious problems in our midst.
Which brings me back to my conversation with Cornelius. While he provided me with several titles and essays to read, when he mentioned Colson Whitehead's book The Nickel Boys, there was a different tone in his voice. "You have to read this!" he said. In this Pulitzer Prize and New York Times best seller, Whitehead tells a story of abuse at a reform school in Jim Crow-era Florida that ultimately becomes a story of perseverance, dignity, and redemption. It is based on the real story of a reform school that operated for 111 years. The Nickel Boys won the 2020 Pulitzer Prize for Fiction and will close out the year's book club.
No matter where you live in Arizona, you can participate as we are moving the Executive Director's Book Club into a virtual space. I want your company and have made it affordable for everyone. Each meeting will be $10 and includes a copy of the book along with some cool swag. The only thing I ask is that you read the book and come prepared for a meaningful discussion. I hope you will join me for any or all of these meetings. I think the books will provide a springboard for a great conversation around race and equity as we look to find ways to create a better tomorrow for us all. Sign up today for the Executive Director's Book Club! Join me, because I really do hate to read alone!