AfterClass
Laura Anderson, a school psychologist in Paradise Valley Unified School District, and Allison Carmichael, a mindfulness advocate and a principal in Queen Creek Unified District, share their thoughts as teachers navigate this new school year.
Jan 01, 0001
Finding ways to take care of yourself while teaching in a usual school year is challenging. Making sure you're protecting your mental and emotional health while teaching during a pandemic is even more so.
We contacted Laura Anderson, a school psychologist in Paradise Valley Unified School District, and Allison Carmichael, a mindfulness advocate and a principal in Queen Creek Unified District, to share their thoughts as teachers navigate this new school year.
As districts begin their school year, however it looks, "all educators are challenged with fear, uncertainty, and confusion," Carmichael says. "These things cause high emotions in humans like negativity, anxiety, and stress. Due to evolution, our brains use tools made to protect us from danger. Yet, these tools cause us to jump into our fight, flight, or freeze modes of operating. This is what kept us safe against tigers, but now, in modern society, causes us stress."
"These big emotions tend to often lead us off our healthy paths," she continues. "These big emotions steal our energy normally dedicated to keeping our bodies healthy… Therefore, this turmoil we feel as we come back to the classroom whether virtual or in person, is causing our teachers abnormal amounts of negative mental and physical health as we are all challenged with fear, uncertainty and confusion."

Mindset
Teachers being able to care for themselves and move out of 'fight, flight, or freeze' starts with understanding "the new abnormal as reality," says Carmichael.
"The more we can acknowledge that this year is different and therefore we must move forward differently than ever before, whether through virtual learning or in-person learning, the more we can start to actually take steps forward."
This allows the brain to operate out of the cortex where logic and reason are housed rather than out of the amygdala ruled by emotions, she says.
Here are Carmichael's tips for living from the cortex.
"Now, more than ever before, decision making must be made with reason, data informed, and logical for both instruction and safety precautions. Living in the fight, flight, or freeze emotional center of the mind will cause us to make bad decisions for our kids.  Think to yourself to 'stay in the cortex.'"

Recognize what you can control and what you can not. "Focusing on what we cannot change and the fears associated with these items keeps us on a debilitating track for which failure is the inevitable outcome."

Give yourself and others grace. "All people, globally, are suffering from abnormal amounts of stress due to both the pandemic but also the civic unrest our country is currently experiencing," Carmichael says. "None of us are immune. Therefore, recognizing that a peer or parent may be responding in an aggressive or angry manner is most likely due to these current global challenges.  If each of us can show one other person grace during this abnormal time it will help us all to be successful."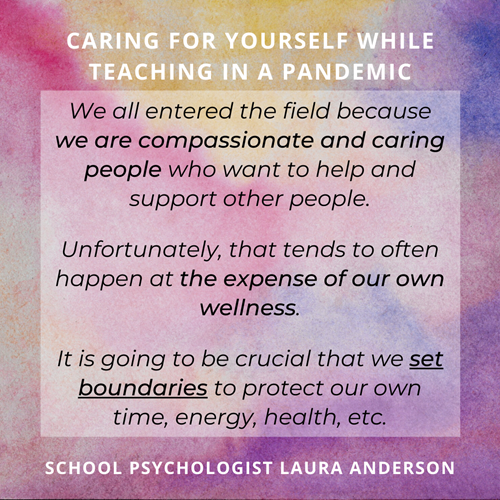 Boundaries

Some of the traits that make so many teachers great at what they do can also make it more difficult for them to set boundaries around their time and energy.
"We all entered the field because we are compassionate and caring people who want to help and support other people," Anderson explains. "Unfortunately, that tends to often happen at the expense of our own wellness. It is going to be crucial that we set boundaries to protect our own time, energy, health, etc."
Here are some specific boundary-setting ideas from Anderson:
Take work email off your phone

Don't respond to emails at night or on weekends

Shut down your work at a certain time each night, especially while working from home

Prioritize sleep

Drink enough water and try to move your body a little each day

Mindfulness
Like many people, Carmichael was skeptical of the idea of mindfulness.
"I couldn't understand how literally doing nothing could help me to do anything," she says. "But what I have learned is that the act of doing nothing is the key to happiness: reaching goals, increased productivity, and becoming a better person, the person I seek to be."
You can read more about Carmichael's journey from mindfulness skeptic to mindfulness advocate in this blog post on her website.
"Mindfulness trains our brains to recognize our thoughts," she explains. "Those without mindfulness carry on thousands of daily thoughts and storylines. These thoughts, gone unrecognized, unacknowledged, then seem real to the person. This storyline, these thoughts, get to rule the person although most thoughts are simply that: thoughts. It is mindfulness that reveals our tendencies to live in worry, concern, negativity, which are human nature."
"But it is also mindfulness that can take us out of that worry, concern and negativity, either with action or at the very least a simple reminder that this one thought is not reality," she says. "Therefore, thought becomes something that can be stopped and moved forward from, and we can operate without judgment in a way that is ruled instead by awareness."
Here are tips from Carmichael and Anderson to explore mindfulness more:
Focus on the present moment.

Use positive self-talk.

Start a daily practice of gratitude using a journey, an app like Grateful for iPhone or Presently for Android, or just in your mind.
Find an app to guide your meditation journey like Headspace, which offers free subscriptions to educators.
Check out Carmichael's recently published e-book about mindfulness specifically for educators.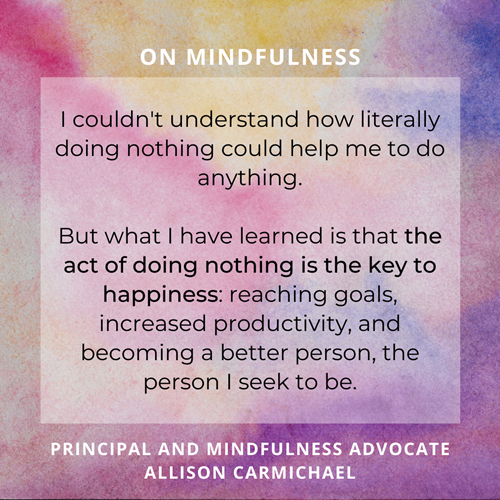 Stay Active with What Brings You Joy
Anderson explains that, while it can be difficult, it's important to prioritize what brings you joy. Here are the two ways Anderson suggests doing that.
"Think about what types of activities help you feel calm or happy these days. Make a list. Do more of those things. Create your own behavior plan and reward yourself for meeting these goals. For example, when you hit a movement or meditation goal for x number of days, you earn something you've wanted."

"Think about what types of activities cause you more stress or anxiety these days. Make a list. Do less of those things, or set time boundaries and limits around them."

Organize
Anderson shares her strategy for all the tasks piling up in your mind.
Create a large to-do list where you can dump all of the things you have hanging over your head, but don't operate off of that list constantly.

Each morning, look at your list and pick one to three things that you want to tackle. Write those down on a smaller list or sticky note so you can cross simple tasks off. Your brain will get a hit of dopamine each time you complete something and cross it off.

If you find yourself 'stuck' and overwhelmed on certain items (i.e. "lesson plans for next week"), break that item down into a bunch of smaller bite-size actions (i.e. "plan Monday morning," "plan Monday afternoon," etc.).

Grace (yes, again)
What can grace look like?
"This is not the time to take an angry email personally," Carmichael explains. "This is not the time to internalize the emotions of your peers. This is not the time to take a call from your boss as a demerit. We must show our colleagues and our stakeholders grace. The more of us that can be understanding, the more operational our organization can be bringing success to the school and your classroom."
Anderson echoes the need for grace.
"Please remember that we are all experiencing collective trauma right now, and you cannot expect yourself or others to have the same productivity, focus, or emotional regulation levels as pre-COVID," Anderson says. "Have some grace with yourself, have some grace with others, and focus on building relationships and being a reinforcer to your students. We got this!"
Carmichael adds these final words of encouragement for educators.
"This will be a hard year, most likely the most emotionally challenging one we will ever face for a myriad of reasons," she says. "We must do right for our students. We must offer highly effective instruction and we must offer ample measures of safety. We can do this. Some of you are Bachelors of the Arts. You are artists painting a classroom through creativity, design, and innovation. And some of you are Bachelors of Science. You are the experts in instruction and child development. Own your expertise and your innovative spirit educators and show this country what you are truly capable of just by doing your job. May you be safe, may you be well, and may you be at ease."
Learn more about Allison Carmichael and her mindfulness initiative Second Arrow at this link. Learn about Laura Carmichael's recently published book with Jon Bowen The Supportive Classroom at this link.