Arizona Teacher Residency
Arizona Teacher Residency
recruit. prepare. support. retain.
The Arizona Teacher Residency is a first-of-its-kind graduate program in Arizona, modeled after medical residencies, to help recruit, prepare, support, and retain K-12 teachers. In its first year, the program will prepare teachers for grades K-8 but will expand to high school in future years. The two-year program aims to prepare aspiring teachers with a rigorous graduate education, a yearlong classroom apprenticeship, and ongoing professional learning through the Arizona K12 Center. Residents will receive a living stipend in the first year, a tuition free master's degree, and a job at a partnering school district. In exchange, residents commit to serving in the partner district in which they were trained for a minimum of 3 years after the residency year. See our Frequently Asked Questions Page for more information.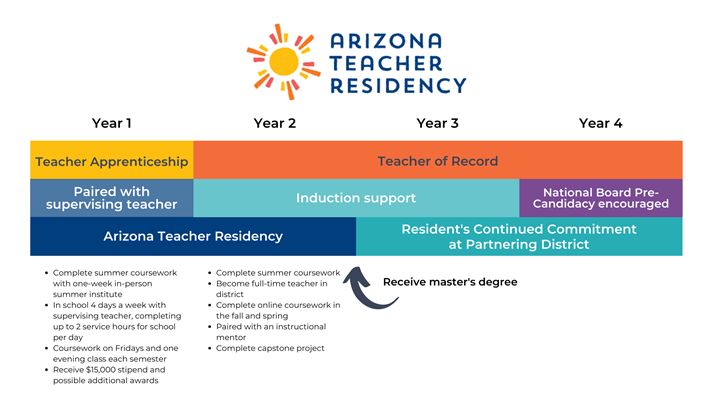 Application Process
Are you interested in being a Resident in the 2023-2024 school year?
If you have (or will have by June 2023) a bachelor's degree in any concentration, you are eligible to apply! This is an outline of our multi-step application process:
Step 1: Complete Part One of the application. This short form just asks for basic information so we can keep you updated. 
Step 2: Part Two of the application process (both parts due by December 11, 2022) will ask for the following, which we recommend you have in advance:

- Unofficial transcript

- Resumé

- Names and contact information for three recommenders

- 3 short personal statements (in written or video form)

Step 3: We will invite semi-finalists to complete an application for the Master in Elementary Education degree (M.Ed.) with certification through Northern Arizona University.
Step 4: We will meet with each semi-finalist for a short interview.
Step 5: Selection Day! Invited candidates will meet other applicants and complete selection activities such as an interview and group discussion.
Step 6: Admitted residents announced.

About the Arizona Teacher Residency
With support from Superintendent of Public Instruction Kathy Hoffman, the Arizona Department of Education, and Northern Arizona University, the Arizona K12 Center created the Arizona Teacher Residency in October 2021. Read more about the program's announcement in this press release from the Arizona Department of Education.
The Arizona Teacher Residency is a two-year program that prepares recent college graduates from any degree program and those looking to switch careers to be effective classroom teachers. It is different from other teacher education programs in Arizona because it:

     - requires a yearlong intensive apprenticeship in partnering schools where residents slowly ramp up their instructional responsibilities under the guidance of a strong supervising teacher prior to becoming a teacher of record

     - is a two-year graduate program leading to a master's degree through NAU, with coursework that revolves around residents' classroom experience

     - offers direct support to residents and supervising teachers in the form of sizable stipends and extensive professional development opportunities
 
     - supports residents through two years of induction after they become teachers of record and then sets them up to be able to pursue National Board Certification

     - requires a three-year commitment to teaching in partnering districts after the residency year
The Arizona K12 Center at Northern Arizona University established the Arizona Teacher Residency program based on the teacher residency model codified by the National Center for Teacher Residencies and work by Arizona Teacher Residency Director Dr. Victoria Theisen-Homer. Her report "A Teacher Chasm in the Grand Canyon State: Assessing Arizona's Education Landscape and the Potential of a Teacher Residency" was co-funded by Helios Education Foundation and Arizona Community Foundation.


Vision, Mission, and Values of the Arizona Teacher Residency
Vision: Our vision is that every child in Arizona receives an outstanding education taught by a well-prepared teacher committed to the profession and the children they serve. 

Mission: The Arizona Teacher Residency recruits, prepares, and supports diverse and talented people who want to become teachers through a rigorous graduate education, year-long clinical apprenticeship, and ongoing professional learning. 

Values: 
-Commitment: We are committed to serving partner communities, advancing the work of schools, and providing an excellent education to students. Residents are members of learning communities, committed to the learning of their students, to their own continuing growth and development as teachers, while serving partner districts for at least four years.
 
- Inclusivity: We work deliberately to include and represent all voices in our recruitment, coursework, and advocacy. Residents reflect, understand, and serve students from diverse backgrounds in partner districts.

- High-Standards: We hold high standards for our work, teaching practice, and student learning. Residents know their students and learn to employ appropriate strategies and methodologies for each student to excel. To that end, they are responsible for managing and monitoring the learning of their students. 

- Relationships: We believe that education is a human profession and that the basis of the work is about forming meaningful connections. Residents develop reciprocal and respectful relationships through knowledge of, and authentic care for, the students and families they serve. 

- Responsiveness: We are committed to creating learner-centered classrooms in which teachers work to engage, understand, and honor the students they teach. Residents learn responsive approaches to teaching and learning that include constructivist, relevant, reflective, and inquiry-based pedagogies to deepen understanding, critical thinking, and learning. 

- Reflection: We rigorously evaluate and reflect upon your work in communities and preservice teacher education. Residents embrace feedback and think critically about their own practice to provide for a cycle of continuous improvement. 


Arizona Teacher Residency Standards/Curriculum
The Arizona Teacher Residency is part of the Arizona K12 Center's robust program of professional development. Arizona Teacher Residency coursework will integrate the Five Core Propositions of National Board Certification and support residents through induction by drawing on new teacher support structures. Supervising teachers who oversee residents during their in-class apprenticeship will also benefit from the Arizona K12 Center's existing training for mentor teachers and will have support to complete National Board Certification if they so choose.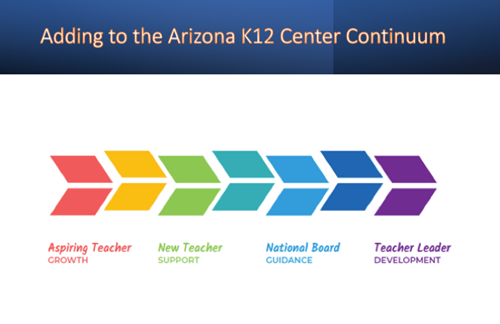 About Teacher Residencies
The teacher residency model began in Boston and Chicago about 20 years ago and has since spread across the country. Most major cities now have at least one graduate teacher residency.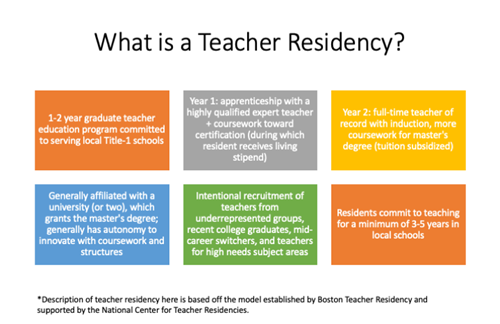 Research on the residency model demonstrates a number of clear benefits for students and schools. These programs boost teacher retention, recruit a more racially diverse teaching force, increase student achievement over time, and powerfully impact the classroom practice of their graduates.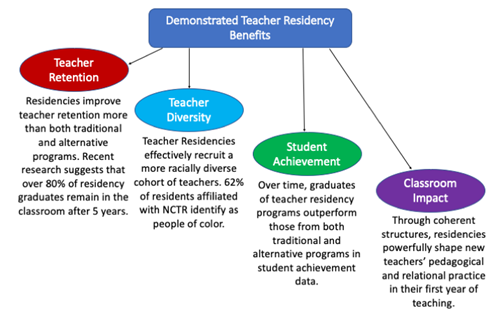 Learn more about the teacher residency model from Arizona Teacher Residency Director Dr. Victoria Theisen Homer on this episode of 3Ps in a Pod podcast: "The Potential for an Arizona Teacher Residency Program".


Arizona Teacher Residency in the News
We have been so grateful for the overwhelming community response to the program. Check out some of the great stories about the program:
"NCTR has tracked the effectiveness of their network programs and found that after three years, 76% of teacher residents are still teachers." Working Nation, November 4, 2022
"The advantage of the residency is that we're providing high-quality teachers that understand and can serve the populations that we're seeking to serve and that will stay in the profession." Downtown Devil, October 5, 2022
"A new program to recruit and retain Arizona teachers is well underway." ABC 15, September 29, 2022
"Almost two dozen aspiring teachers are in this new program where they get a master's degree in Education from NAU, full scholarship, stipend, and years of mentorship." AZ Family, September 14, 2022
"In addition to the Osborn school district, the Arizona Teacher Residency is also partnering with the Roosevelt and Tempe Elementary districts to support the first groups of residents and supervisors," Cronkite News, September 12, 2022
"The residency program is modeled after medical residencies to give education students on-the-job training," K-12 Dive, August 29, 2022
"Modeled on a medical residency, the master's degree offers subsidized tuition and years of mentorship to new educators," Arizona Republic, August 22, 2022 
"

Arizona launches graduate teacher-residency program with stipend, subsidized tuition

," Arizona Republic, October 26, 2021
"New Arizona Teacher Residency Program aims to recruit and train new, diverse educators," KJZZ, October 27, 2021
Stay up to date on the Arizona Teacher Residency

To sign up to receive emails about Arizona Teacher Residency, including when applications are available, click the button below.
Click Here