18th Annual Teacher Leadership Institute: One. Many. All.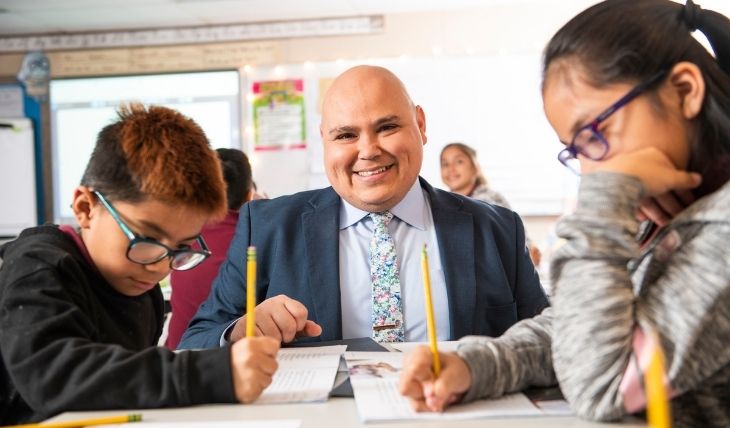 One teacher can start a ripple effect of change impacting many teachers and all students. Transformation of your school community is attainable when leaders convey happiness and a renewed sense of purpose. Join us as we explore how to reinvigorate and define our leadership capabilities by introducing tenets of positive psychology into our daily practice. Research shows that when you strengthen your own emotional resilience by recognizing and honoring your personal needs, you will have a greater impact on the culture of your school and student achievement by creating spaces where people want to be. Develop plans to build a thriving school community by discovering how multiple narratives existing in one place create true unity in systems deeply rooted in inequitable practices. Find new thought partners when collaborating with other teacher leaders from across Arizona. Scheduled planning time for school and district teams to begin incorporating learner-centered activities into upcoming professional learning sessions will be provided. Thoughtful consideration given to seating and planning time for those registering as individuals and not with a team.
The agenda will be filled with dynamic keynotes, engaging general session facilitators, thought-provoking breakout sessions presented by the Arizona TeacherSolutions® Team, and stories of impact from Arizona teacher leaders. Districts are encouraged to spend time crafting intentional teams of teacher leaders, coaches, and site administrators and at least one district decision maker who can move this work forward.
Whether this is your first Teacher Leadership Institute or your 18th, you can always count on this event to re-energize your enthusiasm for the critical work of positively impacting students and your community. We encourage you to register today with your school or a district team.
Participants will:
Develop a plan for transformation that focuses on listening, leadership, and bringing key elements of positive psychology into professional learning opportunities. 
Impact human agency and achievement by cultivating emotional resilience, self-actualization, and a growth mindset.
Build foundational knowledge on how to affirm students' and colleagues' identity and culture to impact student achievement and teacher efficacy.
Develop skills of transformational leadership which will positively impact their community.
Draw upon the idea that true unity is rooted in dissensus and discover how multiple narratives must coexist to create dynamic change in spaces rooted in inequity. 
Additional Information
Registration includes training, materials, a book, breakfast (6/12, 6/13, 6/14), and lunch (6/12, 6/13). The Arizona K12 Center will book private sleeping room accommodations for the nights of June 12 and 13, only if you choose to register with accommodations(*).

**NBCT and MT: In-state National Board Certified Teachers and Arizona Mentor Teachers can use the discount code TLI23LEAD for a $50 discount.

All times listed are in MST/Phoenix, AZ time.
---