18th Annual Teacher Leadership Institute: One. Many. All.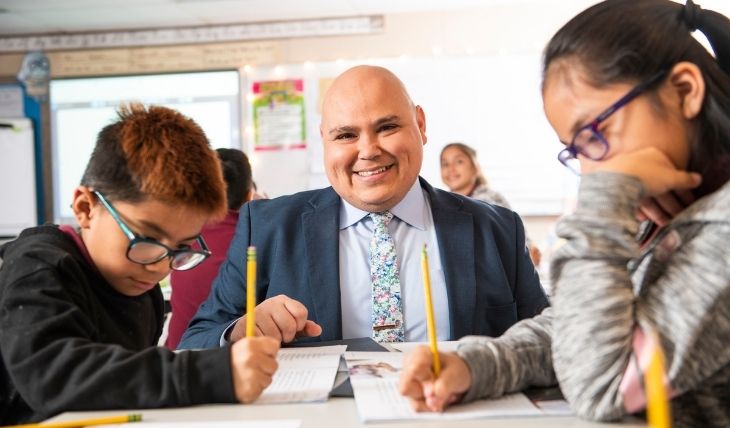 One teacher can start a ripple effect of change impacting many teachers and all students. When we convey happiness and a renewed sense of purpose, we can transform our school communities.
Join us as we explore how to reinvigorate and define our leadership capabilities by introducing tenets of positive psychology into our daily practice. Research shows that when you strengthen your own emotional resilience by recognizing and honoring your personal needs, you have a greater impact on the culture of your school and student achievement by creating spaces where people want to be.
Develop plans to build a thriving school community by discovering how multiple narratives existing in one place can create true unity and uproot systems developed in inequitable practices. Find new thought partners when collaborating with other teacher leaders from across Arizona. Use scheduled planning time to begin incorporating learner-centered activities into classroom activities and upcoming professional learning sessions.
We are excited to announce that authors Amy Blankson, Dr. David Anderson Hooker, and Nataly Kogan will be leading our general session space. Administrators, mentors, and teachers will walk away with practice-specific learning after engaging with the Arizona TeacherSolutions® Team in choice breakout sessions.
This year's keynote speakers are Amy Blankson, Dr. David Anderson Hooker, and Nataly Kogan.
About our Keynote Speakers:
Amy Blankson is the CEO of the Digital Wellness Institute and bestselling author of
The Future of Happiness. A graduate of Harvard and the Yale School of Management,
she's the only person to receive a Point of Light award from two U.S. presidents, an
award she received for her work in civic engagement.  
 
She is also a member of the United Nations Global Happiness Council, a Fellow of the World
Innovation Organization, a featured professor in Oprah's happiness e-course, and a
regular contributor to Forbes.
Dr. David Anderson Hooker, Ph.D, J.D., M. Div.,  is the founder and principal narrator of
CounterStories Consulting. Hooker is internationally recognized for his theory
and practice regarding the role of narrative in post-conflict trauma healing,
community building, and identity formation.
He is the former associate professor of the practice of conflict transformation and peacebuilding at the University of Notre Dame's Kroc Institute. Since September 11, 2001, his research and practice has focused on the role of generational and cultural trauma and narrative in identity construction in post-conflict contexts. He is the author of The Little Book of Transformative Community Conferencing, co-author with Amy Potter-Czaijkowski of Transforming Historical Harms, and several other articles, chapters, and commentaries.
Nataly Kogan is an entrepreneur, best-selling author, emotional fitness expert, and keynote speaker on a mission to help millions of people embrace their Awesome Human, struggle less, and thrive more in work and life!

Kogan immigrated to the US as a refugee from the former Soviet Union when she was 13 years old. Starting her American life in the projects and on welfare, she learned English by watching "Who's the Boss?" on repeat. She went on to reach the highest levels of success at McKinsey and Microsoft, as a managing director at a venture capital fund, and as founder or executive at five startups and tech companies.
But after years of chasing a non-existent state of nirvana, Nataly suffered a debilitating burnout that led her to find a new way to live and work. Today, she helps Awesome Humans break free from daily burnout, unleash their full human potential, and experience more joy and meaning by sharing her unboring science-backed Happier Method™ – and her signature positive energy!
About the Optional Session with The Bergamot and Dr. David Anderson Hooker:
This year, you're also welcome to join us Monday for an evening with Brooklyn-based husband-wife duo The Bergamot and Dr. David Anderson Hooker. We will watch the award-winning documentary State of the Unity featuring Dr. Hooker and following The Bergamot's quest to visit all 50 U.S. states to unite people through the power of music, community, and collaboration. What began as a simple idea in the band's station wagon brought about a profound revelation: What is unity and how can we as individuals reframe the way we perceive and understand it?
The evening will also include live music and a discussion following the documentary with The Bergamot and Dr. Hooker.
Through the 18th Annual Teacher Leadership Institute, participants will:
Develop a plan for transformation that focuses on listening, leadership, and bringing key elements of positive psychology into professional learning opportunities. 
Impact human agency and achievement by cultivating emotional resilience, self-actualization, and a growth mindset.
Build foundational knowledge on how to affirm students' and colleagues' identity and culture to impact student achievement and teacher efficacy.
Develop skills of transformational leadership which will positively impact their community.
Draw upon the idea that true unity is rooted in dissensus and discover how multiple narratives must coexist to create dynamic change in spaces rooted in inequity. 
Additional Information
Registration includes training, materials, a book, breakfast (6/12, 6/13, 6/14), and lunch (6/12, 6/13). The Arizona K12 Center will book private sleeping room accommodations for the nights of June 12 and 13, only if you choose to register with lodging accommodations.

**NBCT and MT: In-state National Board Certified Teachers and Arizona Mentor Teachers can use the discount code TLI23LEAD for a $50 discount.

All times listed are in MST/Phoenix, AZ time.
---