InClass
Larry Olsen, a math coach in Lake Havasu Unified School District, shares three ideas for celebrating Pi Day in your classroom.
Mar 07, 2023
March 14 can be one of the most memorable days in math class. When students reminisce about my class, they always bring up Pi Day even though I know I rocked that lesson on quadratic equations. Here are three activities to springboard your students into that final push heading into state testing.
Pi Quilts

Materials needed:
10x10 grid graph paper

the first 99 decimal digits of pi (find both this and the 10x10 graph paper, along with an example of a pi quilt at this link)

colored pencils

scissors

tape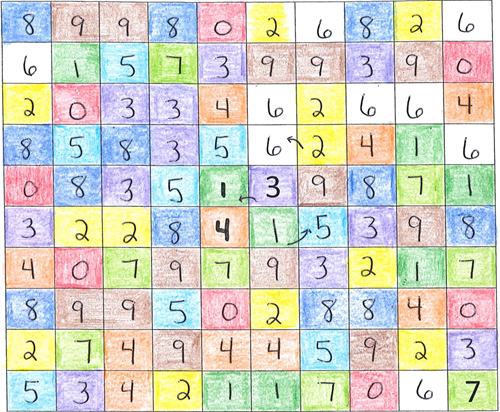 On the 10x10 grid, every student will start by writing "3" in the center square, followed by "1" and "4" in two adjoining squares and continue to write the remaining digits in an outward spiral.
Once all the digits are in place, the student will create a unique color legend for each corresponding digit. All 3s can be green, for example. Color all 3s green and repeat for each digit/color combination. Once all the squares have been colored, cut out the piece of quilt to tape to the main whiteboard/bulletin board.
Each student will have contributed to our class pi quilt. The goal is that as they write down the first 100 digits, students realize the order of digits never repeats and they definitely do not terminate.

Pi Chains
Materials needed:
10 different colors of construction paper cut into 1'' wide strips

Several staplers

The different colored strips are assigned to represent each corresponding digit.  All 4s will be purple, for example. Working in teams of 2 to 4 students, each team will link the strips in order using the stapler.  Create your paper chain by taking a strip of paper in the color you have chosen to represent the number 3 and making it into a loop.  Close the loop with a stapler. Take a strip that represents the number 1 and thread it through your loop. Close the loop.

Repeat with the strips that match each successive number in pi. Which team can make the longest pi chain?

Secondary variation: give group 1 digits 1-30, group 2 digits 31-60, group 3 digits 61-90 and so on.  Reassign each group the successive digits as the chain gets longer. Which class period can make the longest chain?

One year I had second period continue from where first period left off and so on throughout the day.  One student commented, "Wow, this chain could keep going on forever." Exactly!
Celebrate with Pie
Depending on your school policy of food in the classroom, this could be a tricky one. Most principals are willing to look the other way provided you remove all evidence before the custodian sees it. Ask your class (or each class) to bring in 5-6 grocery store baked pies.  Someone needs to bring paper plates, plastic forks, napkins, cans of whipped cream, paper towels, cleaning products, etc.
Students need to earn the piece of pie before they can eat it. Create a worksheet with one circle on it. Have the students measure the circumference the best they can and measure the diameter and have them calculate the ratio to see how close they get to pi.
Share any leftovers with your colleagues and your principal. Bon appetit!