Centered
Executive Director Dr. Kathy Wiebke, NBCT, reflects on her start as a teacher and the dream of creating a teacher residency program in Arizona.
Oct 27, 2021
Have you ever had a dream that was so vivid—you could clearly see the activity that encompassed it—yet so big that it seemed unattainable? That has been me for over 10 years, until now.
All I ever wanted to be was a teacher, a second-grade teacher to be specific, because that was the grade Mrs. Mack taught—the teacher with an incredible smile and an upright piano, the teacher who took a genuine interest in me and my family.
I went through a traditional teacher preparation program.  By the time the spring semester of my second year came around, I was ready to be in a real classroom. There were plenty of practicum experiences along the way, but this was the first time I would be in a classroom all day with real children under the guidance of an amazing teacher. I opted for a full semester of student teaching as I wanted to soak it all in. I loved the experience, and it is with those teachers I learned that teaching is not only about the curriculum but is about the relationships we have with the students and their families. I came to understand the importance of collaboration and time with colleagues to advance the learning of not only our students but teachers as well. I also learned how to have uncomfortable conversations with students, like the time the teacher had to pull aside a student because the smell emanating from this amazing kid filled the room in a not-so-pleasant way. 
Three months after graduation, I had my own classroom. I remember the sheer terror of wondering if I really knew what to do. It was at that moment I realized that I had no idea how to set up the classroom. Sure, I knew how to make some stellar bulletin boards and arrange the room for learning, but I was less confident on how to establish myself as the teacher and our classroom as a community of learners. By the time I started my student teaching, students understood classroom procedures and had strong  relationships with their teacher and each other. I began to wonder; how do you get to that space and place?
I have long held the belief that we do the newest members of our profession a disservice when we provide them an internship/student teaching experience that represents only a portion of a school year. If you start the school year in a classroom, you never see how you bring the year and its learning to closure. If you end the year in the classroom, you never had a chance to see how the teacher was able to establish the routines and procedures that were second nature to students.
This all takes me back to my dream. I always thought it would be an amazing experience to be in a classroom, working alongside the teacher, for an entire year. The idea of apprenticing alongside someone who really knew the craft and practice of teaching, otherwise known as a teaching residency, was enticing. I couldn't help but think this type of exposure and experience might yield more confident and effective beginning teachers—the type who discover the joy of teaching earlier in their career and stay.
I suspect there are many in the profession who had a similar experience to mine, where there was that one teacher you really connected with, who was your source of inspiration, who you wanted to be like. But unlike when I started my teaching career, now, we simply do not have enough people wanting to be a teacher. 
Since 1999, the Arizona K12 Center has dedicated itself to advancing the practice of teachers throughout Arizona. Our goal has been simple: to help teachers, no matter where they are on the teaching continuum, to advance their practice. We have spent the last 20-plus years supporting the newest members of the teaching profession to our most experienced and accomplished teacher leaders. This week, we launched the Arizona Teacher Residency!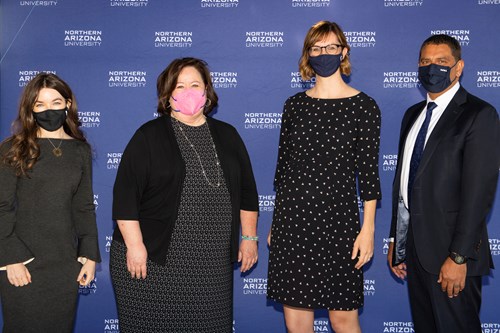 Starting in our communities of greatest need, the Arizona Teacher Residency is designed for those who have already graduated with an undergraduate degree interested in becoming K-12 teachers. In the residency model, students (a.k.a. residents) are in classrooms from the first days of school to the last day. They work alongside an exemplary teacher in their residency year while taking coursework. By the second year, while continuing with coursework, they will be the teacher-of-record in the partnering district with induction and mentoring support from the Arizona K12 Center. What sets this program apart from other residencies is the support of the Arizona K12 Center at Northern Arizona University. By the second year, residents will have access to quality induction and mentoring support. This support will continue in their third year and beyond with access to professional learning opportunities grounded in high-leverage practices. The teacher residency model is about creating another path for people to pursue a teaching career that is grounded in practice from the first day.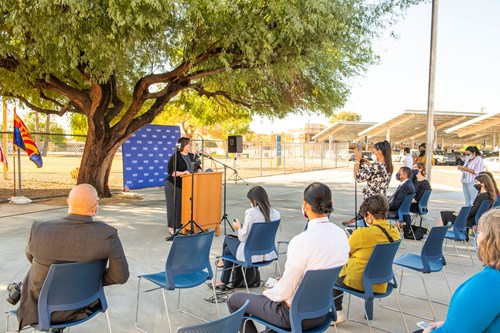 Our plan is to leverage what already exists to make this a budget friendly opportunity for the resident by covering their tuition and providing them a cost-of-living stipend in their first year. By the end of their second year, residents will have a master's degree in education from Northern Arizona University. Equally important, they will have access to the services and resources of the Arizona K12 Center as well as an opportunity to connect with the larger community of practitioners.
Most major cities have a graduate residency program. And, while we are starting in the elementary grades, it is our hope to quickly expand to high school. Eventually, we want to partner with districts in rural communities found throughout Arizona.
What excites me about this program? First is the idea that a resident is going to be in a classroom from the first day to the last days of school. Too often pre-service teachers only go through a small segment of the teaching experience before being thrust into their own classroom. Second, we know students gain more confidence and do better academically when they have teachers that look like them. This program takes a big step toward addressing the diversity gap in teaching. And, finally, I am excited by the ability to build a profession with tools and resources we know work. We know that teachers stay in the profession longer when they have regular interactions with their colleagues and administrators, along with access to high-quality professional learning and instructional mentoring. I want teachers to stay long enough to discover the joy that comes from teaching while becoming an integral part of that community. 
This is not a quick fix to Arizona's teacher shortage, but it is the right step. Quick fixes rarely have any lasting impact. I have wanted a teacher residency in this state for over 10 years because I believe in its potential to transform the teaching profession. This week marks the beginning of another way Arizona looks at teacher preparation. So, what excites me most? It is knowing the impact this program will have on Arizona's students and families.
And, never give up on a dream.