Book Club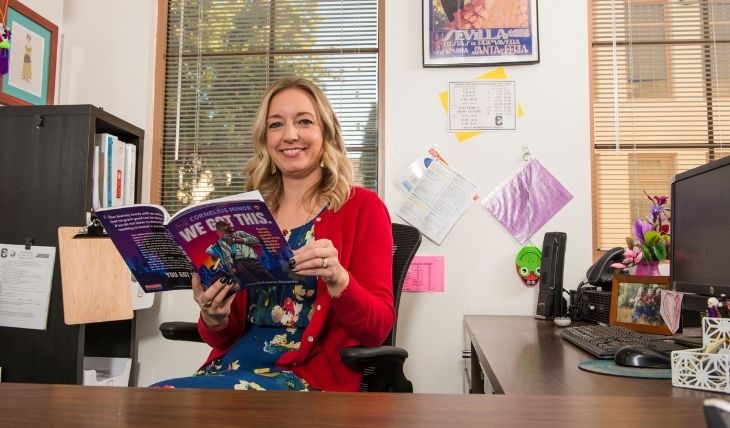 Join Juliana Urtubey for the Arizona K12 Center's Book Club. The books we discuss are recommended by teachers and leaders just like you! Four meeting dates, four different books. You choose: join us for one or all four! Each meeting is $15 and includes the book. Be sure to note each meeting's registration deadline.
We kick off the new school year on August 15 with the book Reclaiming Personalized Learning by Paul Emerich France. When technology is used to individualize curriculum, the learning in our classrooms becomes less personal. In his book Paul Emerich France presents a vision of personalized learning where inclusive learning opportunities for all learners is central. He shares stories from his own classroom while providing guidance on sustainable applications for personalization in curriculum design, instruction, and assessment. Just what we need as we plan for a new school year!
On October 25, join us to discuss How the Word is Passed by Clint Smith. Beginning in his hometown of New Orleans, Clint Smith leads the reader on an unforgettable tour of monuments and landmarks—those that are honest about the past and those that are not—that offer an intergenerational story of how slavery has been central in shaping our nation's collective history, and ourselves. How the Word Is Passed illustrates how some of our country's most essential stories are hidden in plain view—whether in places we might drive by on our way to work, holidays such as Juneteenth, or entire neighborhoods like downtown Manhattan, where the brutal history of the trade in enslaved men, women, and children has been deeply imprinted. How the Word is Passed offers a new understanding of the hopeful role that memory and history can play in making sense of our country and how it has come to be.
When we meet on March 30, we will discuss There is Nothing for You Here by Fiona Hill. Fiona Hill grew up in a world of decay. The last of the local mines had closed, businesses were shuttering, and despair was etched in the faces around her. Her father urged her to get out of their blighted corner of northern England. Hill managed to go further than her father could have dreamed. She studied in Moscow and at Harvard, became an American citizen, and served three U.S. Presidents. But in the heartlands of both Russia and the United States, she saw troubling reflections of her hometown and similar populist impulses. In this deeply personal account, Hill shares what she has learned, and shows why expanding opportunity is the only long-term hope for our democracy.
We will close out the year on June 28 with the book, True Biz by Sarah Novic. True Biz takes the readers to River Valley School for the Deaf, a residential school for the deaf, where the reader meets the characters of Charlie, a rebellious transfer student; Austin, the school's golden boy; and, February, the hearing headmistress. This is a story of sign language and lip-reading, disability, and civil rights. It is also an unforgettable story about the human connection.

Participants will:
Learn how to make personalized learning sustainable and meaningful for all students.

Understand the role that memory and history can play in making sense of our country.

Learn why expanding opportunity is the only long-term hope for our democracy.

Consider the lasting influence of our past as it shapes our future into something other than our origin.
Additional Information
Registration includes a copy of the book.
Intended audience is preservice students and K-12 educators
Please contact Lane Klassen at lklassen@azk12.org two weeks prior to the event if you require accommodations (such as closed captioning) for this virtual event.
---