AfterClass
Looking for a new book to inspire and elevate your practice? We have a few suggestions.
Oct 26, 2020
Are you always on the lookout for some powerful reading to inspire your practice? This year, the Arizona TeacherSolutions® Team is diving into a few books that you might also want to explore.
These are great options for a book study at your school or district or to read on your own. You can also find a few 'TSTers' thoughts on these books by checking out #AZTST21 on Twitter.
If you're not already familiar with the Arizona TeacherSolutions Team, 'TST' is a group of 20 solutions-focused Arizona teacher leaders working together to push themselves outside of what is and look toward what could be. This year, along with their book studies, the team is exploring their own inquiry-focused goal project and helping plan the content for next summer's Teacher Leadership Institute. You can learn more about the Arizona TeacherSolutions Team and find the application for next year's team at this link.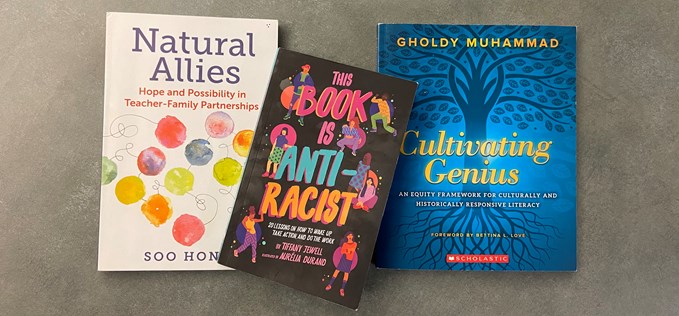 Cultivating Genius: An Equity Framework for Culturally and Historically Responsive Literacy by Gholdy Muhammad
In Cultivating Genius, Dr. Gholnecsar "Gholdy" Muhammad presents her equity framework grounded in history and cultural revelvancy focusing on four learning goals: identity development, skill development, intellectual development, and criticality. Teaching from this framework "is essential for all young students, especially students of color, who traditionally have been marginalized by learning standards, government policies, and school practices."
As the publisher notes, "When these four learning pursuits are taught together —through the Historically Responsive Literacy Framework— all students receive profound opportunities for personal, intellectual, and academic success. Muhammad provides probing, self-reflective questions for both teachers and students as well as bibliographies of culturally responsive text and sample lesson plans across grades and content areas."
Muhammad is an associate professor of language and literacy at Georgia State University and the director of the Urban Literacy Collaborative and Clinic but spent the early part of her career as a middle school teacher and district curriculum director. 
Some TSTers shared their impressions of the book after the first discussion.
Learn more about Cultivating Genius here.
Natural Allies: Hope and Possibility in Teacher-Family Partnerships by Soo Hong
Natural Allies "considers the ways in which schools have traditionally marginalized and excluded families and proposes a new framework for schools as grounded institutions — schools that are rooted in and reflect the full cultural lives and experiences of students' families and communities," writes Dr. Soo Hong in the introduction of the book. "To cultivate schools as grounded institutions, educators must dramatically redesign their family engagement practices in ways that are culturally sustaining." 
For this book, Hong followed five urban school teachers over three years, studying how they create and maintain purposeful and dynamic relationships with families. Hong also explores the need to confront racism, distrust, and misunderstanding in these relationships.
Hong is a sociologist of education, especially focused on the role of families and community in school transformation. She began her career as a classroom teacher and is currently an associate professor of education at Wellesley College.
Learn more about Natural Allies here.

This Book Is Anti-Racist: 20 Lessons on How to Wake Up, Take Action, and Do the Work written by Tiffany Jewell and illustrated by Aurélia Durand

Along with choosing to dive into either Cultivating Genius or Natural Allies, each TSTer also received a copy of Tiffany Jewell's This Book Is Anti-Racist, a book the author says is "the book I wish I'd had when I was younger." Filled with Aurélia Durand's vibrant and engaging illustrations, this book equips young people and adults to better understand the history of racism and readers' personal identities and role in anti-racism work. At about 150 pages, This Book Is Anti-Racist packs in activities, quotes, poems, and Durand's art alongside chapters building readers context and ability to begin the lifelong journey of being anti-racist.

Learn more about This Book Is Anti-Racist here.