AfterClass
Being a part of the military led Treva Jenkins to realize both her love of teaching and of Arizona.
Nov 10, 2020
Treva Jenkins' military experience wasn't just a stop along the way of her becoming a teacher but the very catalyst for the career she now has.
As a first and second lieutenant in the U.S. Army, Jenkins was a part of the training corps, guiding new troops. This experience was her first time doing any sort of teaching or working with young people.
"Being in front with the soldiers, seeing them engage, having discussions, and seeing their eyes light up when they solved a problem… it felt like I was on stage or something. I felt this spark, and I had never felt that before," she says. "Just that interaction with young people and that engagement with them lit a fire in me."
She was excited to continue training new soldiers, she explains, but the military had her move on to working in intelligence. She worked as a Military Intelligence Officer for a few years before leaving the U.S. Army in the early 2000s to follow her passion for teaching. Her last duty station was at Fort Huachuca in Sierra Vista, where she also began her classroom teaching career. She started working at a charter school that helped her transition into teaching high school and earn her teacher certification.
"I fell in love with Arizona. I didn't want to leave," she says.
Jenkins now lives in Maricopa, is a National Board Certified Teacher, and supports new teachers at Maricopa Unified School District as an Arizona Master Teacher Mentor. While mentoring full-time, she also continues to teach a seventh-grade honors English language arts class.
Several lessons from her time in the military translate to the classroom.
"A lot of it dealt with that structure, that foundation, that organization," she explains, "and that's what I bring into the teaching profession, working with young people and working with beginning teachers. Right now in this time of uncertainty, people are looking for that type of normalcy, they're looking for structure, they're looking for some type of foundation that they can build from."
Especially this year, as the country continues to grapple with COVID-19, Jenkins says she is helping both her students and the beginning teachers she mentors understand that they have the foundational skills to handle this year's unpredictable circumstances. A part of that confidence can come from knowing that Jenkins and the others in Maricopa Unified are there to support each other.
"The military honestly teaches you how to be a family, how to be one unit," Jenkins notes. "If one is suffering, we are all suffering. You don't leave anybody behind. You do whatever you have to do to bring everybody in and make sure everybody is safe."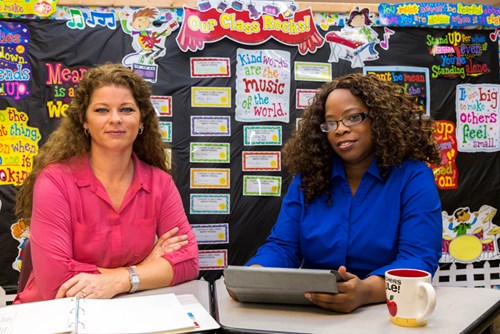 Treva Jenkins (right) mentors another teacher.
"I am taking that same mentality and I am bringing into the classroom with the one group of scholars that I teach, and I'm bringing it into mentoring with the teachers that I'm working with, letting them know that we are in this together and I am going to do everything that I can to be an advocate for you, to support you, and we are going to look out for each other. We are going to take care of ourselves and take care of each other. As we say in the military, we are not going to leave any soldier behind."
One way Jenkins has been working to support her school community is by talking about a concept she learned from the Center for Great Teachers & Leaders at the American Institutes for Research, the "ABCs of teacher self-care": awareness of your emotions, your stress levels, and knowing when you are nearing a breaking point; finding balance between commitments and taking breaks as needed; and seeking out connection with friends, family, and colleagues in whatever ways are safe and possible right now. 
Jenkins works to integrate those ABCs into how she is caring for herself by focusing on her family, friends, and faith.
As the calendar nears Veteran's Day, she notes that she often receives lots of messages from people thanking her for her military service, but she encourages people to recognize all those who serve in a variety of ways on this holiday.
"There are so many different agencies that are working on behalf of the people right now," she says. "I think for me, it's great to honor our soldiers but we can definitely add in other agencies in that as well. I would even add in teachers because they are my heroes. I think it's a time to reflect on all those who do a service: our doctors, our teachers, nurses, police and fire, they all do a service. It's a great time to honor our veterans, honor our soldiers, and take a look at all the others who are also in the serving capacity."