AfterClass
Last fall, two teachers ran into each at the National Board New Candidate Kickoff who hadn't seen each other since 18 years earlier when one taught the other in fourth grade.
Jan 23, 2020
(Pictured above: The selfie teacher Courtney Craig took with her former student, now teacher, Sindy Macias when they ran into each other at last fall's National Board New Candidate Kickoff. Both are pursuing National Board certification.)

Like most new teachers, Courtney Craig was anxious about how well she was doing in her first classroom, a fourth-grade class in 2001 at Don Mensendick Elementary in Glendale, Ariz.
"I always said I don't know if they learned a lot, but they were loved," she said with a smile in late December 2019.
Eighteen years later, Craig found herself reflecting on that first year of teaching.
Now a National Board candidate, Craig attended the 2019 National Board New Candidate Kickoff on November 16 in Phoenix and ran into Sindy Macias, a student from that first class, now a fourth-grade teacher, pursuing her own National Board certification.
Macias remembers her year in Craig's classroom fondly. She also reassured Craig that lots of learning did go on that year.
"I think my biggest memory of her is how invested she was in her students," Macias said. "...I can relate to that experience (now as a teacher) and how you get to know your students so well, and their families."
Macias added later, "As a first year teacher, she was so willing to open herself up to us and tell us about herself, which sometimes as teachers, as we progress in our profession, we don't do as much. Having that relationship, realizing that she is human also, was a big deal for us."
During an interview, Craig and Macias swapped memories of that class: how Macias and her classmates worked with Craig's co-teacher to organize a surprise classroom birthday party for Craig's 25th birthday, a specific meeting where Craig helped Macias on her writing, and where different students were today.
"I'm so proud that you became a teacher," Craig told Macias.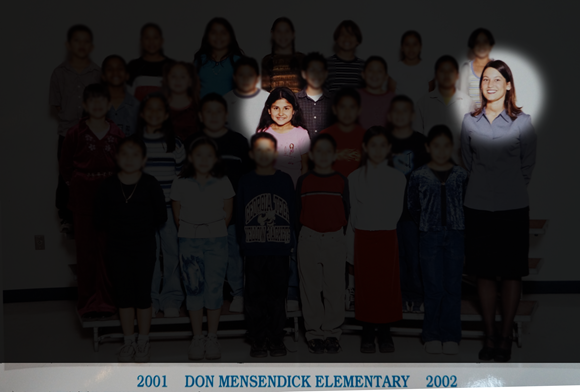 (Now a fourth-grade teacher, Sindy Macias, center, smiles for her fourth-grade class photo with teacher Courtney Craig, right.)
At last fall's National Board New Candidate Kickoff, Craig and Macias took a selfie and Craig posted it on her Facebook page. Craig's fifth-grade teacher, who had been in her first year of teaching when she had Craig in class, commented on the post about how proud she was of Craig's pursuit of National Board Certification. Craig responded with how that teacher's work was affecting generations of teachers and students.
"I think that's what's so special about teaching," Craig said to Macias. "I poured into you, now you're pouring into all of these kids."
Craig now teaches fifth grade at Legend Springs Elementary in the Deer Valley Unified School District. Macias is in her fifth year of teaching, currently in a fourth grade classroom at Sunland Elementary in Roosevelt School District.
Macias and Craig both said they decided to pursue National Board Certification because they are continually looking for ways to improve their practice.
"The self-reflection piece is such a big deal," Macias pointed out, adding, "Asking ourselves 'why' all the time is a huge part of our profession."
Macias complimented the support she's receiving from her National Board Candidate Support Provider and Craig noted that there are several current NBCTs and candidates in her district, but both said they do plan to help hold each other accountable and offer encouragement during the National Board Certification process as well. Learn more about the National Board Certified Teacher process
here
.