InClass
Meet Sheri Ramirez, a third-grade teacher and NBCT, currently teaching at Linden Elementary in Show Low.
Sep 16, 2020
Where
Linden Elementary School in Show Low Unified School District
Role
Third-grade teacher
What she's prioritizing for self-care
Along with teaching full time, Ramirez is also a yoga teacher and makes movement, whether yoga, weight training, or walking with her French bulldog, Avi, a part of each day. She also started meditating using the Calm app earlier this year and in mid-September had completed more than 300 days of consecutive meditation. 
What she's currently reading and recently enjoyed
Ramirez is continually reading books related to teaching. Here are few she's been excited about lately:
Teaching Talk: A Practical Guide to Fostering Student Thinking and Conversation by Kara Pranikoff


The Curious Classroom: 10 Structures for Teaching with Student-Directed Inquiry by Harvey "Smokey" Daniels


A Mindset for Learning: Teaching the Traits for Joyful, Independent Growth by Kristine Mraz and Christine Hertz


A Teacher's Guide to Reading Conferences by Jennifer Serravallo
Happy Teachers Change the World: A Guide for Cultivating Mindfulness in Education by Katherine Weare and Thich Nhat Hanh
—
Third-grade teacher Sheri Ramirez is working to approach the new school year with mindfulness, grace, and creativity.
Linden Elementary in Show Low where Ramirez teaches has been meeting in-person since the start of the school year mid-August. Like others in the district, Ramirez and her third graders are masked or physically distanced in the classroom. After the first few days of school, she said she and her colleagues were tired but so impressed with how resilient the students were.
"Today was better than yesterday and tomorrow will be better yet," she said.
The obstacles of moving teaching online last spring, and now teaching in a classroom but with new constraints, have propelled Ramirez and all teachers to continually try new things.
"Some of the things we know are best for how kids learn are difficult right now because they need to be apart," she says, but she is working to be creative with how engagement can look in this new circumstance.
"As challenging as the end of last year was, it really did give me a lot of opportunities," she says, noting that she signed up for "webinar after webinar after webinar."
She also continually keeps the tenets of the National Board Certification process in mind as she teaches. In December 2017, Ramirez became a National Board Certified Teacher in Literacy: Reading-Language Arts in Early And Middle Childhood. She really appreciates how National Board Certification asks teachers to deeply reflect and collect data about their practice.
"I've always been pretty reflective because I never stop thinking," she says, adding with a chuckle, "which can be problematic at times." 
"Keeping those National Board Five Core Propositions in the back of my mind whenever I plan has become just second nature to me," she continues. "Going through that process, it was probably the most challenging thing I've ever done as a teacher, but it also gave me permission to own my mistakes and learn from them instead of beating myself up for not getting something the first time or missing something. That's what we expect from our students. We say 'growth mindset,' but then if we make a mistake we're the worst teacher on the planet. Sometimes our mistakes become the best learning opportunities for us."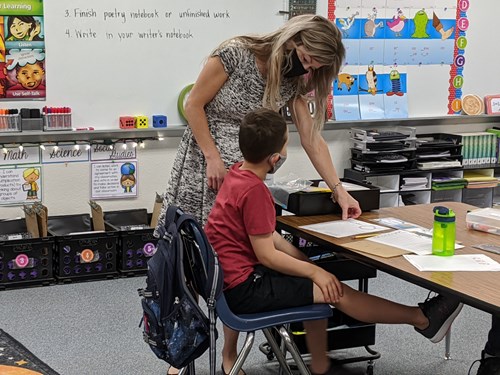 Ramirez is now in her 21st year of teaching, having taught kindergarten, first, second, and third grade. She taught for several years in southeastern Michigan, 11 years at Blue Ridge Elementary School, and is in her second year of teaching third grade at Linden Elementary School.
She is in a community she loves, teaching in a school with about 100 students between six grades and a close-knit team of teachers, administrators, and other school employees.
"It's just such an amazing little school," she says.
Ramirez had not expected to end up teaching in an elementary school.
"My high school anthropology teacher was the one that inspired me to go to college," she says. "Maybe I could do that for other high school kids."
But when she student taught at a Flagstaff high school while earning her anthropology degree at Northern Arizona University, she realized teaching at the secondary level was not for her.
She earned her elementary education teaching certification "and I haven't looked back," she says.
"When I started to teach the little kids, I just fell in love," she says. "They remind me everyday to live one moment at a time, to keep my sense of humor, to be empathetic... It's just so funny how close I feel to my own childhood watching them. I vividly recall experiences and feelings, and so I really try to take care of them because I know how they feel."
Ramirez says that, while a common sentiment, it continues to be so important for teachers to extend that emotional awareness to both students and themselves.
"Just allow grace for yourself and your students, and know it's OK to take time and take care of their little hearts, not hammer them with standards and academics," she says. "They have to be ready and emotionally healthy to learn, taking the time to make sure that they're feeling good, and that you're feeling good too."