InClass
Sarah Garcia shares about how her upbringing and time as a student impacts her teaching today and how National Board Certification and her connections with students keep her inspired.
Oct 01, 2020
Where
Ganado High School in Ganado Unified School District
Role
English teacher
What she's prioritizing for self-care
Garcia has been using the last several months to dive into cooking blogs and videos, making time to do plenty of cooking herself, and enjoying great food. Being in a rural area, there are fewer restaurants around and many foods she grew up with, like elote and horchata, aren't available, so she works to re-create favorite dishes at home.
What she's currently reading
A love of the surreal and the mysterious shows up in much of Garcia's reading and watching. She's fascinated with media that "uses horror archetypes that explore bigger issues like racism or motherhood," she says. Books she's enjoyed lately are Final Girls by Riley Sager, The Southern Book Club's Guide to Slaying Vampires by Grady Hendrix, and Mexican Gothic by Silvia Moreno-Garcia.
What she's currently watching
Garcia's been enjoying the new HBO series Lovecraft Country, Gente-fied on Netflix, which pulls in her love of food and cooking, and also re-watching some old, familiar programs like Seinfeld and 30 Rock.
—


A half hour's drive from the New Mexico line, Ganado High School sets on the Navajo Nation, serving about 500 students from the reservation. Teacher Sarah Garcia didn't grow up in Ganado but, after visiting several times as a young adult, knew that she would go on to work there someday.
Garcia originally didn't want to go into teaching at all.
She grew up attending Gilbert Public Schools  — back when that area was still very rural, she notes — but lived in the area now covered by Higley Unified School District. Her teachers were some of the most stable and consistent adults in her life, she says, and connected her with Arizona State University's TRIO Upward Bound program to support low-income, first-generation students transition from high school to college.
"I actually did not want to go into teaching. Coming from a low-income family and being the first to go to college, I think I wanted something that was going to pay more. I had visions of helping my parents buy their house or being able to buy a new vehicle. But, truthfully, anything was going to be a step-up," she explains. A mentor helped her realize that teaching was the right course for her. She also loved the social justice aspect of education: that in the U.S., education is free and accessible, that teachers educate whatever students come to them, and that every student deserves a great education.
While earning her bachelor's degree, she joined the Building Great Communities program where she produced an interactive workshop about preparing for and going to college and presented it at high schools around the state. From her first presentation at Ganado High School, she was impressed with both how many students attended on a Saturday and how engaged they were. She continued to connect with the community on her visits there and, after graduating with her degree in secondary education and additional work in what was then called Chicano studies, Ganado High School offered her a job.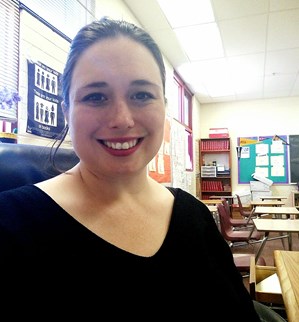 Garcia is now in her 11th year as an English teacher at Ganado High School. 
Her own time as a student has informed her teaching, including working to not make assumptions about her students and their families. While she did have several teachers who supported and inspired her, she also had teachers tell her she wouldn't make it to college.
Garcia shares about the experience of growing up with teachers who clearly made assumptions about her Mexican-American father, who she describes looking somewhat like the actor Danny Trejo. Those teachers' assumptions then carried over to their perceptions of her.
"My dad was always really hesitant to come in and speak to my teachers because he could see that their impression of me would change," she explains. "So, he wouldn't show up to school events. I can see how some of my teachers interpreted that as 'he didn't care,' but he cared so much that he stayed away." 
Garcia's confidence as a teacher has continued to grow through the years. Of course, sometimes she does question her effectiveness. Her investigative mind, though, always digs deeper into why she's feeling that way. The first time she found herself seriously unsure of her impact, she decided to pursue National Board Certification. She certified in English Language Arts in Adolescence and Young Adulthood in 2017 and has since become a National Board Candidate Support Provider, building a network of current candidates and new National Board Certified Teachers across a few different schools on the Navajo Nation.
"I was feeling really alone in my district, and National Board just opened up a lot of new mentors and new teacher leaders who I look up to," she says, specifically mentioning NBCTs Daniela Robles and Beth Maloney. "That's really been a big part of it is keeping in contact with these amazing teachers who I look up to so much but who tell me 'I'm human and I had these obstacles and this is how I moved through it.'"
Becoming an NBCT was the most difficult thing she has ever done professionally, she says, but it changed her outlook on teaching.


"I think every teacher, maybe every working professional, that comes from a background like mine suffers from imposter syndrome. We sit there and think we're barely getting by. I don't think we ever celebrate what we do right, and we don't really talk highly of what we do. I think as teachers, we tend to focus on areas where we need to improve and we don't tend to say 'Here's what I'm doing right and here's my evidence for it.' National Board really let me do that."
When the difficult days do happen, Garcia says her students keep her motivated. Many have stayed in contact past their graduations and shared how Garcia's voice will pop in their heads and help them persevere through college and other challenges.
"I don't know how they know this but everytime I start feeling really down and 'Oh, I'm so stressed. Is this even making a difference?', I'll get a random message out of the blue from a student," she shares. "'How did you know i needed this?' I think that they take care of me. The universe has sent these kids into my life, and maybe me in theirs."