AfterClass
The Arizona TeacherSolutions Team is again exploring three fantastic and powerful books this year. We invite you to check them out too!
Oct 11, 2021
Each year, the Arizona TeacherSolutions® Team explores a few books together to expand their learning and prepare for the next Teacher Leadership Institute. We're excited to share this year's selections with you below, in case you're interested in reading them too! You can also follow along with some of the team's insights by checking out the #AZTeacherLeader thread on Twitter.
If you're not already familiar with the Arizona TeacherSolutions Team, 'TST' is a group of 20 solutions-focused Arizona teacher leaders working together to push themselves outside of what is and look toward what could be. This year, along with their book studies, the team is exploring their own inquiry-focused goal project and helping plan the content for next summer's Teacher Leadership Institute. You can learn more about the Arizona TeacherSolutions Team and find the application for next year's team at this link.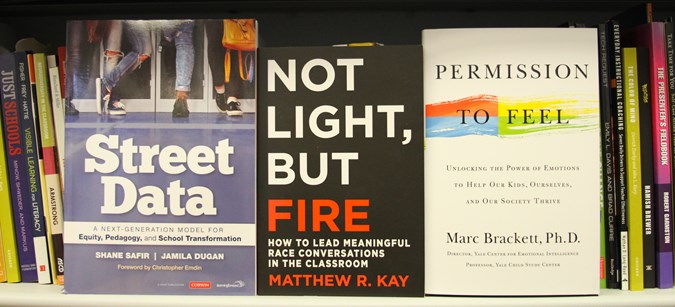 Not Light, But Fire: How to Lead Meaningful Race Conversations in the Classroom by Matthew R. Kay

Teacher, author, and founder and executive director of Philly Slam League Matthew R. Kay wants to support you in deepening the race conversations in your classroom. In this book, Kay shares his reflections and learning on making high school classrooms a great place for serious racial discussions. He guides teachers on what is necessary for your class community before discussions take place and on strategies for engaging students and elevating the conversation. Learn more about the book at this link.

Permission to Feel: Unlocking the Power of Emotions to Help Our Kids, Ourselves, and Our Society Thrive by Marc Brackett
Combining personal storytelling and insight with more than 25 years as an emotion scientist, Marc Brackett addresses the emotional crisis he sees affecting both children and adults. With Permission to Feel, Brackett outlines how to build emotional intelligence, "a blueprint for understanding our emotions and using them wisely so that they help, rather than hinder, our success and well-being." Brackett's credits include being the founder and director of the Yale Center for Emotional Intelligence, a Yale professor, and on the board of directors for the Collaborative for Academic, Social, and Emotional Learning (CASEL). Learn more about Brackett and this book at this link.

Street Data: A Next-Generation Model for Equity, Pedagogy, and School Transformation by Shane Safir and Jamila Dugan

Just published in March, Street Data dives into the intersection between data and equity by centering individual students.
Safir writes that street data "is the qualitative and experiential data that emerges at eye level and on lower frequencies when we train our brains to discern it. Street data is asset based, building on the tenets of culturally responsive education by helping educators look for what's right in our students, schools, and communities instead of seeking out what's wrong. Street data embodies both an ethos and a change methodology that will transform how we analyze, diagnose, and assess everything from student learning to district improvement to policy. It offers us a new way to think about, gather, and make meaning of data." Learn more about Street Data at this link.